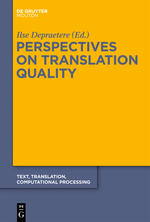 Quality Assurance in the translation workflow – A professional's testimony
---
Publication: Matis, Nancy (2011), "Quality Assurance in the translation workflow – A professional's testimony". Ilse Depraetere (ed), Perspectives on Translation Quality. Berlin: De Gruyter Mouton, 2011, ISBN 978 3 11 025984 1.
Comment

By Afaf (not verified) on Tuesday, 08/25/2020- Permalink
Hello,
I would love to have a deeper look at the book.
Thanks a lot,
Afaf
Add new comment